Abreu Immigration Services
Your Trusted Immigration Partner in the Dominican Republic
Comprehensive Immigration Solutions Tailored to Your Needs
Welcome to Abreu & Associates Immigration Services, your trusted partner for all your immigration needs in the Dominican Republic.
Our experienced team is committed to providing comprehensive solutions to help you navigate the complexities of visas, residencies, citizenship, and more. Discover how we can assist you in achieving your immigration goals.
Visa Services
Obtain the necessary visas to visit or stay in the Dominican Republic effortlessly. Our expert team handles the paperwork, ensures compliance with requirements, and streamlines the application process.
Residency Solutions
Secure your place in the Dominican Republic with our residency services. Whether you're seeking provisional or permanent residency, we guide you through the entire process, making it smooth and hassle-free.
Residency Renewal
Renew your residency status in the Dominican Republic hassle-free. Our experts handle the paperwork and guide you through the renewal process, ensuring a smooth and successful experience.
Citizenship Acquisition
Unlock the benefits of Dominican citizenship with our tailored guidance. We assist you in meeting the requirements, preparing the documentation, and navigating the naturalization process.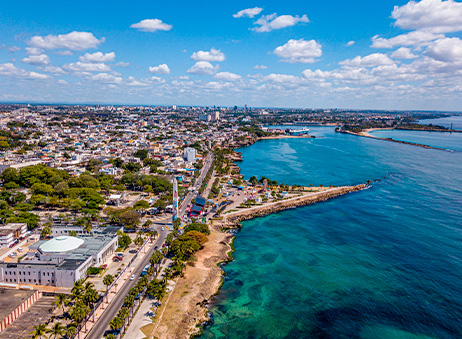 Investments Opportunities
Explore the thriving investment landscape in the Dominican Republic. Benefit from our market expertise as we assist you in identifying lucrative opportunities and guide you through the investment process.
Special Tax Incentives
Take advantage of special tax incentives in the Dominican Republic. Our team can help you navigate the tax landscape, ensuring that you optimize your investments and maximize your benefits.
Dominican Driver's License
Secure your Dominican driver's license quickly and efficiently. Our experts guide you through the application process, ensuring that you meet all the requirements and obtain your license hassle-free.
Translation Services
Ensure accurate and reliable translations for your documents. Our professional translators offer high-quality translation services in multiple languages, ensuring that your messages are effectively conveyed.
Apostille Services
Authenticate your documents with our efficient apostille services. We handle the legalization and certification process, ensuring that your documents meet the necessary requirements for international use.
Fingerprinting for Background Checks
Meet the requirements for FBI or RCMP checks with our fingerprinting services. Our trained professionals assist you in obtaining the necessary fingerprints for your background check process.
Health Insurance
Protect your well-being with comprehensive health insurance coverage. We offer tailored health insurance solutions that provide you and your loved ones with peace of mind during your stay in the Dominican Republic.
Would you like to speak on of our consultant over phone?

Call us 809-365-5016
Get Your

Online Consultation
Explore our range of services and let us help you navigate the immigration landscape in the Dominican Republic. Contact us today to schedule a consultation and begin your journey towards a successful immigration experience.
Support Your Immigration Journey
Interested In An Estimate?
Get Started With

Your Free Estimate
Discover more about our services and how we can tailor them to meet your specific needs. Contact us today to schedule a consultation and take the first step towards a successful immigration journey.
WE BUILD FOR YOUR COMFORT
Call Us :

+1 (809) 364-5016
Maria is the CEO and Managing Attorney of Abreu & Associates, a law firm practicing exclusively in the area of Dominican Republic Immigration and Nationality law. The firm serves as trusted advisors in all practice areas of immigration law.